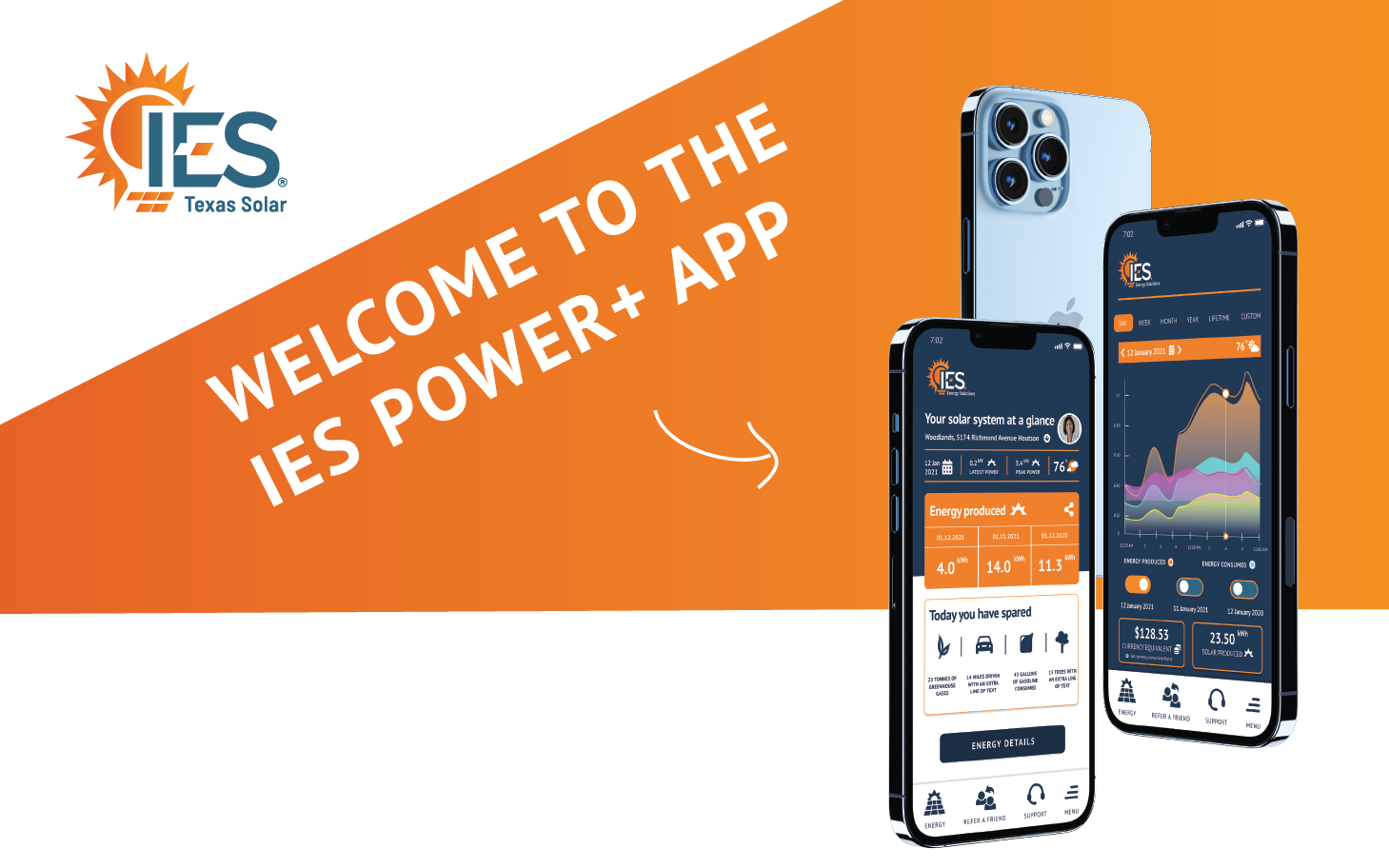 Time to read: 4 minutes
Date: April 18, 2023
Introducing the Power+ App!
This app has many convenient features but the most exciting is the referral function! Click here to download.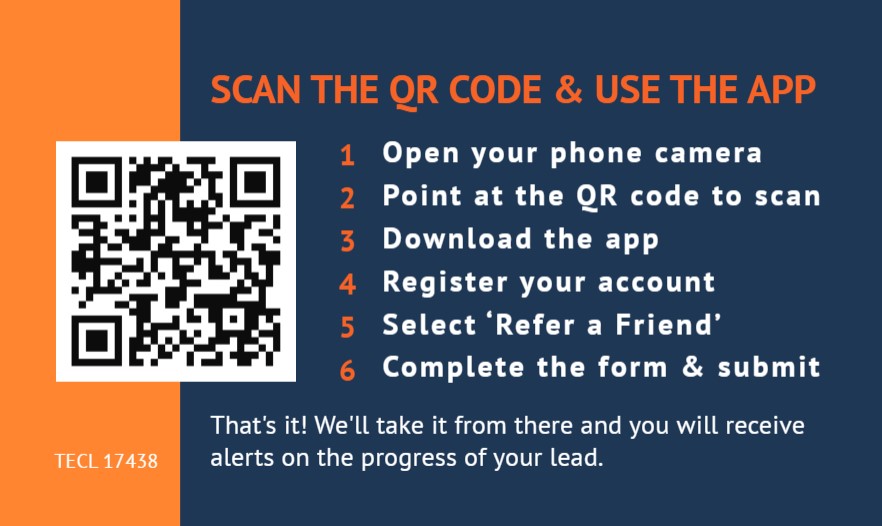 Give the Gift of Savings and Get Extra Cash.
Know of someone who is exploring the idea of:
Solar Powered Energy
Energy Storage
Home Standby Generators
All Three??
Start thinking about what you would do with an extra $500 Referral Bonus ($1000 total) and who might be our next IES Texas Solar community member! Terms and conditions apply.
In this article, we're going to be exploring the Power+ App developed by the engineering team at IES Texas Solar.
What is the Power+ App?
What if there was a way that you could check on your solar power system at any point in the day? Better yet, what if you could check out the power your solar power system is producing while bragging about it? Keeping an eye on your system is essential for all owners of a solar power system. Luckily, the perfect app for monitoring your system exists!
The Power+ App is a convenient and easy to use way to monitor the power production of your solar power system. When it comes to taking a look at how your system is performing, it's the best tool that owners of solar power systems could ask for. Simply put, the Power+ App is a tool that allows you to keep an eye on your system 24/7 in order to get the most out of it.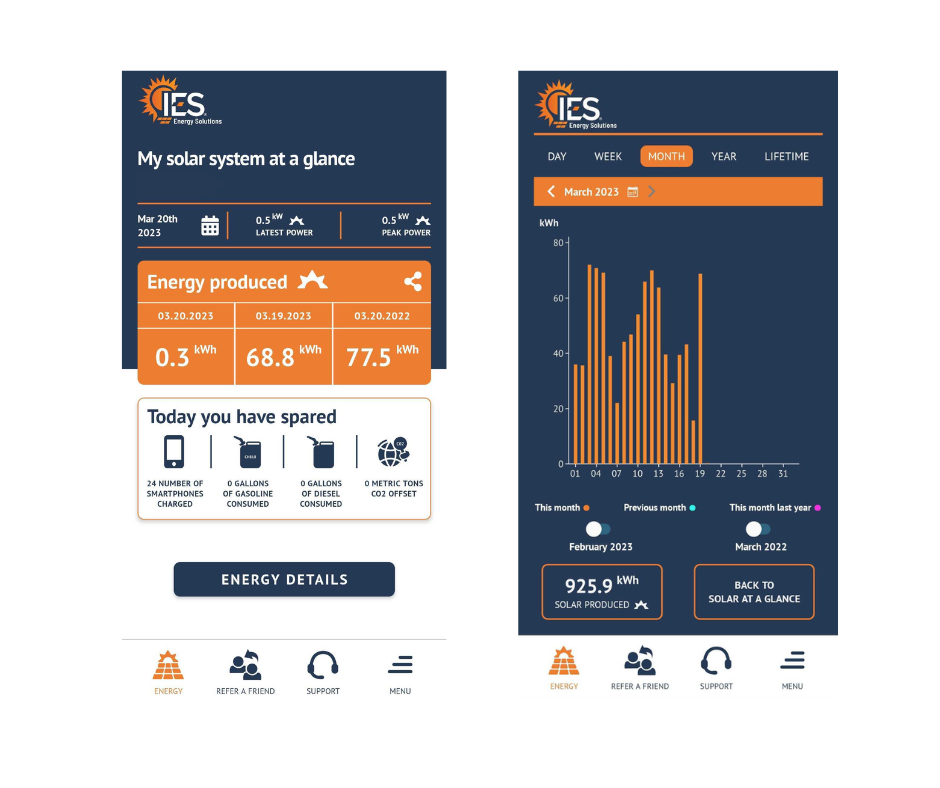 What Are the Benefits of Using the Power+ App?
The Power+ App was created with the members of the IES Texas Solar community at top of mind. The benefits that you can enjoy through the app include:
Did you know that you can earn $500 for referring a friend through the app? Better yet we have doubled our referral bonus to $1000 if you refer between 4/15/2023 and 6/30/2023. Click here to download the app now! Terms and conditions apply.
Being able to see how much energy that your solar power system produces. You can also compare the levels of electricity that it produces with what it produced in the past. This makes it easier than ever to oversee changes in the performance of your solar power system.
The ability to see how much you've helped the environment. The Power+ App shows you how many smartphones your solar power system could charge with the energy you produced. It also shows you how much CO2 you've offset and how many gallons of diesel and gasoline you've kept from being used by going solar! (The Texas Power Grid uses fossil fuels, and solar power cuts back on its usage! Read more about it here)
Ease of access to customer service. With the Power+ App, if you need help all you have to do is push a single button and stellar service is yours!
Easily monitoring the performance of your system makes it easy to tell if your solar power system isn't performing as well as it should be. This could be the result of a single solar panel not working properly. The Power+ app makes it easy to tell if your solar power system needs to be checked by the experts. Luckily, customer support is only a simple push of the button away through the app!
Communicate with the IES Texas Solar Support Team before, during, and after your solar power system has been installed.
Overall, the Power+ App is the most effective tool you can use to monitor the power production of your solar power system.
The Gold Standard
IES Texas Solar is the gold standard in solar power system design, quality, after installation service, and customer care. Our team's objective is to meet your home's energy needs and your goals for sustainable energy.
We do this with…
Engineered designs unique to your project. IES Texas Solar custom-tailors your solar power system for your needs
Advanced, cutting-edge equipment and advanced technology
Information from the experts. The most important element is information and the human element of customer care. We care about each person's experience with IES Texas Solar and make it our mission to provide service and expertise that goes above and beyond
Go With the Gold Standard in the Solar Industry – No Company Shines Brighter Than IES Texas Solar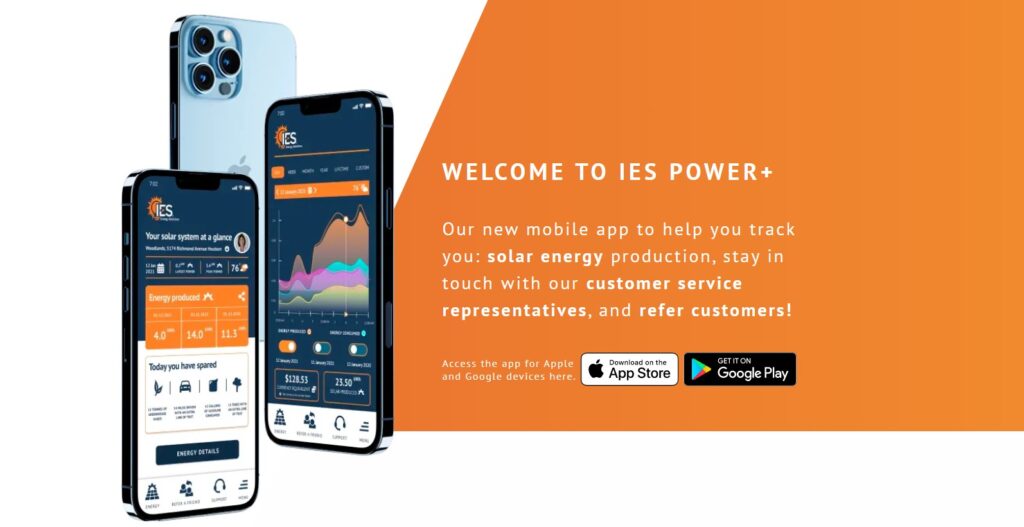 While solar companies come and go, IES Texas Solar outlasts the competition. With tried and true custom-tailored solar power systems and a commitment to long-term energy stability, IES Texas Solar provides service that just can't be topped. Installing a solar power system with backup batteries and a home standby generator has never been so stress free. When you put that all together with the ability to monitor your solar power system with the Power+ App, you get a completely seamless and sustainable energy source. Reach out to your IES Texas Solar consultant and start your solar journey today!
We have made it our mission to be a source of truth in renewable energy. Our team believes that accurate solar and backup power education is the foundation for making the best decision when choosing a system that fits your needs.
If you are considering installing a backup generator or switching to solar for your home or business, reach out to us by going to our website, iestxsolar.com, or by giving us a call at (855) 447-6527.
: