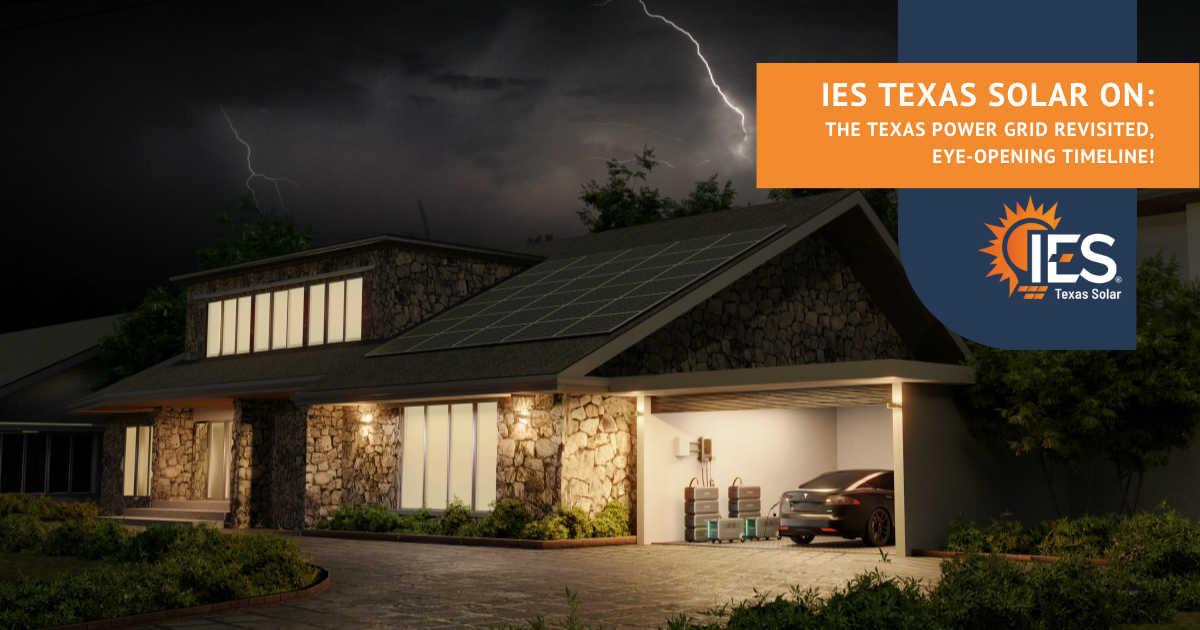 Time to read: 9 minutes
Date: April 20, 2023
The Winter Storm of 2021 did much more than just cause widespread power outages. Winter Storm Uri opened many Texans' eyes to the vulnerabilities of the state's power grid. It brought about changes that raised both public awareness of the Texas power grid and electricity prices. Before Winter Storm Uri, fewer Texans knew how the state's power grid worked. Texans also didn't know if it could stand up to extreme weather. The weather in the Lone-Star State has consistently been more intense over the last couple of years. As a result, Texans have become more conscious of what goes on with the power grid. This also goes for ERCOT, the group responsible for managing the Texas power grid, as well as the PUC (Public Utility commission). But how did it all get like this? What's the story behind how we got to where the grid is today?
In our newest article, we've put together a timeline of events from the winter storm of 2021 up to the present.
Background of Texas Energy
In Texas, the bulk of the state's electricity is managed by ERCOT. Natural gas is the largest fuel source for generating electricity in Texas. The state itself ranks as the largest producer of electricity as a single state in the US.
In the rest of the US, capacity markets and wholesale energy markets are used. Consumers in these states have their residents buy electricity while also paying power generators for electrical power that goes towards a capacity which is used in the future. When it comes to this type of purchased capacity, the price is based on what the estimated peak demand is for the future.
Texas, on the other hand, is an energy only market. Texas is the only state in the US with its own electricity grid. In Texas, power generators aren't paid for any excess power capacity. On top of that, ERCOT has an Operating Reserves Demand Curve (ORDC). This allows power generators to profit off of generating electricity.
In addition to ORDC's, Texas also has Load Serving Entities (LSE's). An LSE operates a bit differently from other entities. Rather than purchasing electricity in real time, they take up contracts with power generators. LSE's negotiate with these power generators to make advance purchases, which are purchases made ahead of real-time operations. These purchases create a stable revenue source for the power generators while making sure that the LSE doesn't suffer from price volatility.
Winter Storm Uri and Texas Blackouts
Winter Storm Uri caused widespread power outages that created rolling blackouts and spikes in electrical pricing. One question regarding the blackouts is why wasn't the grid able to handle the winter storm? Let's take a look at how ERCOT planned for the time period that the winter storm took place.
One week before Winter Storm Uri, meteorologists and other groups started to think about severe weather events in the month of February. On February 8, the weather models that the ERCOT staff were using started to predict an extreme weather event for Texas. It's important to note that weather models don't always predict weather events with complete accuracy. These models didn't all agree on the forecast for the dates on which the winter storm took place. This played a part in why, despite there being a polar vortex in the US at the time, meteorologists weren't completely sure if Texas would be hit with extreme freezes.
So what about the power load? Why didn't ERCOT prepare for such an event well enough? Much of this is due to the weather models mentioned earlier. ERCOT's load projections are always based on weather forecasts. This means that the weather models not lining up with one another kept them from being able to adequately prepare for Winter Storm Uri.
When load projections weren't accurate, ERCOT was unable to anticipate the tremendous increase in energy demand caused by Winter Storm Uri. Ultimately, the amount of demand placed on the Texas power grid was far higher than what had been predicted, and widespread blackouts were the result.
Quick timeline of events
Here is a quick breakdown of the 2021 Winter Storm according to the National Weather Service:
February 11 – Sleet and freezing rain appear in northwest counties and a Winter Weather Advisory is put into effect.
February 12 – The Winter Weather Advisory is still in effect for the north and a Winter Storm Watch is announced for the following night. The Texas governor declares a state of emergency.
February 13 – Temperatures drop and a Winter Storm Watch is issued along with a Hard Freeze Watch and Wind Chill Watch.
February 14 – The WSW continues. Snow and sleet began to fall. Wind chill warnings as well as hard freeze warnings go into effect.
February 15 – Winter precipitation is present Monday morning. The Hard Freeze Warning and Wind Chill Warning are still in effect.
February 16 – A separate Wind Chill Warning is issued for an ice storm
February 17 – Winter Weather Advisory is put into effect for light snow showers for both north and west Harris County.
February 18 – Snow showers cause the Winter Weather Advisory to stay in effect. Northwest counties are given a Wind Chill Advisory.
February 19 – The final Hard Freeze Warning is given for the North and West of Harris County.
February 20 – Hard Freeze officially ends at 9am.
To say that this was quite a week for Texans would be an understatement. While Winter Storm Uri only lasted a week, the after effects of the storm were felt long after it was over.
Past Power Outages
In hindsight, it seems that much of this could still have been avoided. Texas has experienced massive power outages before Winter Storm Uri. Back in 1989 and 2011, there were large scale blackouts caused by significantly low temperatures. RFF scholar Karen Palmer points out these two instances of power outages in Texas history. Palmer does this by pointing out that the past two times that cold-weather related outages occurred (1989 and 2011) studies conducted after they happened recommended weatherizing the Texas power grid.
Despite these recommendations, Texas did not make the recommended changes to help avoid cold weather-related blackouts. Winter Storm Uri is yet another cold-weather event that shows the consequences of a lack of weatherized electrical infrastructure.
ERCOT Makes Changes
Since Winter Storm Uri exposed vulnerabilities within the Texas power grid, ERCOT has taken steps to increase its health. In light of what happened during Winter Storm Uri, the Texas Legislature had ERCOT create a report on how they were going to restructure the market in order to avoid future problems. Changes that followed this were the weatherizing of the natural gas infrastructure and increased oversight. On top of that, ERCOT has increased inspections and has stocked up on extra fuel in order to attempt to avoid repeats of situations like the outages caused by Winter Storm Uri
Additionally, the Public Utility Commission (PUC) has also put forth a suggested solution in the form of performance credit mechanisms (PCM). This plan involves getting power providers to generate more electrical power during the points in the year when the power grid is the most stressed. Electric retailers in Texas would buy credits from these power generators, giving them more electricity to use when the grid is under the most stress. This way, blackouts can be avoided. This plan hinges on incentivizing power generators to construct new power plants in Texas. This plan is relatively new and hasn't been totally implemented yet, so Texans will not be benefiting from this immediately.
Changes to Emergency Response
The PUCT made changes in Fall of 2021 in order to improve emergency response services during large-scale blackouts. As of this change, ERCOT buys megawatts from power generators that can be used when electricity from the grid is scarce. This involved reallocating funds for ERS in order to make them available for winter. In August of 2022, these changes were revised in order to further increase the funding available for ERS.
Improvements to ancillary services
ERCOT has now implemented new methods to regulate power. This comes as a response to orders from the PUCT to use a new ancillary service that can quickly and effectively respond to the changes in the Texas power grid. Grid frequency is another area that the PUCT has ordered ERCOT to improve on, as grid frequency is a type of balancing act between the supply and demand of power.
In addition to these changes, the PUCT also ordered ERCOT to increase the number of types of non-spinning reserve services (off-line power generators that can be used and synced with the Texas power grid in minutes) that are able to participate. ERCOT was also ordered to develop and acquire FFSS (firm fuel supply service) in order to buy power from electricity generators. This power could be dispatched and would operate for days at a time during extreme weather events.
Want to learn more about PCMs and how they affect Texans? Check out our article on them here!
Cold Snaps in 2022 and Early 2023
Towards the end of 2022, ERCOT continued to show weaknesses in terms of preparedness in the face of extreme cold. Storms that hit Texas in the end of 2022 that brought below-freezing temperatures dramatically increased the demand on ERCOT's electricity. Like the conditions with Winter Storm Uri, the forecasts that ERCOT was working with were part of the issue. The electrical demand placed on ERCOT ended up hitting above 73,000 megawatts. This is around 12,000 megawatts hither than their forecast had predicted.
No Matter What Happens With ERCOT, IES Texas Solar Has the Solution to Outages Caused by Extreme Weather
While the Texas power grid is certainly more reliable than it has been in the past, the best way to avoid blackouts and enjoy long-term energy stability is to install a solar power system. IES Texas Solar offers incredible, custom-tailored solar power systems with backup batteries that can keep your home running in the event of a power outage. Want even more stability when it comes to your electricity? Adding a Generac home standby generator that has been correctly sized by a professional can give you the ability to keep your home running for as long as you need it to! Reach out to a solar consultant and go solar today!
We have made it our mission to be a source of truth in renewable energy. Our team believes that accurate solar and backup power education is the foundation for making the best decision when choosing a system that fits your needs.
If you are considering installing a backup generator or switching to solar for your home or business, reach out to us by going to our website, iestxsolar.com, or by giving us a call at (855) 447-6527.
: