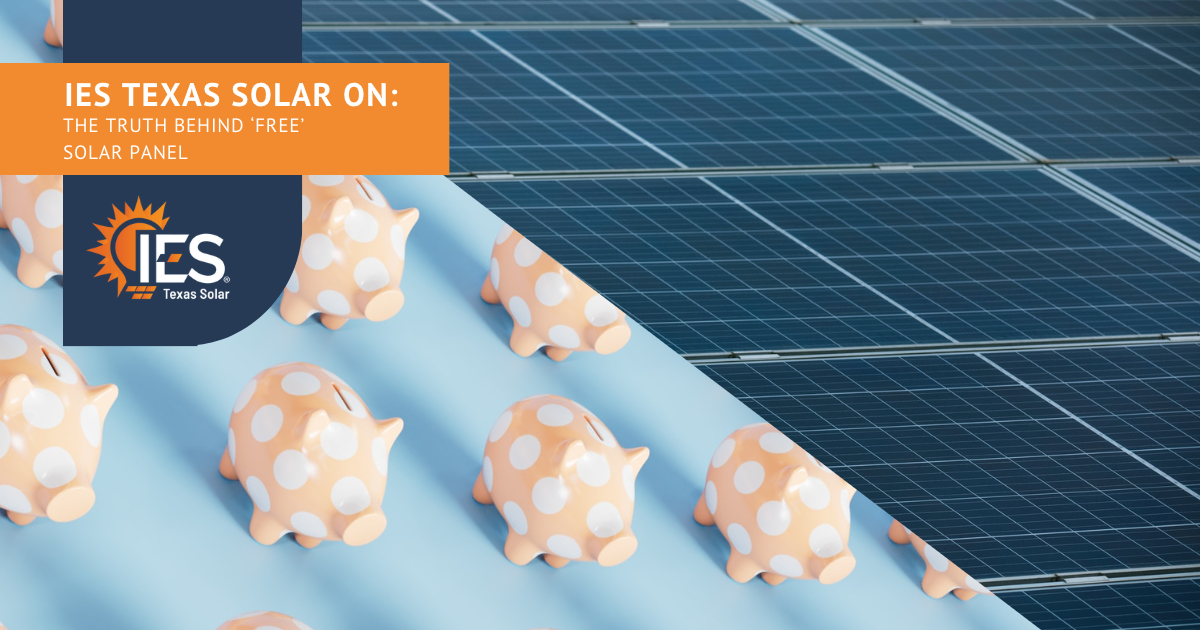 Time to read: 9 minutes
Date: July 6, 2023
Have you ever received a call from a solar company offering to give you free solar panels? Maybe you've been called over the phone and told you qualify, but then you are told that you need to provide your personal and bank information immediately to get the deal. An unfortunate truth for the solar industry is that there are scammers looking to either make a quick buck. Many offer to give solar panels that result in customers paying far more money than if they had gone with a reputable professional. Some will also offer 'free' solar panels but the deal ends up being through a type of leasing program or something that is ultimately more expensive. "Free" solar panels is, in the end, usually a marketing tactic used to get someone to sign up for a solar powered system.
In this article, we're going to dive into offers about free solar panels. We'll go over what they look like, what they try to offer, and ways to identify real solar experts. Finally, we will go over what you can do about them.
Have you Ever Googled "Free Solar"?
The truth is that there are plenty of solar power companies out there that will say anything to get you to click on their sites. When you take a good look at the deals these companies offer, it turns out that their terms and conditions aren't as sunny as they made it sound. This is something that IES Texas Solar sees and hears about on a daily basis.
What do "Free" Solar Offers Look Like?
Just as it is with any market or industry, there are always scams and fake offers. Before we go any further, we need to set the record straight: free solar panels do not exist. These types of deals and scams will often come with certain conditions or will tell customers up front that they're getting something for free. But this comes at the cost of their personal information. Anyone offering you "free" solar panels often has other motives or will offer you a type of program that is far from a $0 cost.
Types of "Free" Solar
"Free" solar panels come in a variety of forms. Remember: free solar panels don't actually exist. On top of that, some types of free solar present themselves as no up-front cost options by disingenuously offering programs that the customer may not even qualify for.
It's incredibly important to note that according to Energy.gov "the federal government does not offer any programs for free home solar panel installations nor does the government require companies to grant solar panels for free to customers"(Energy.gov, 2023). While there are programs to reduce the costs of installing solar panels, they are never free for customers.
Leasing solar panels
One way that "free" solar panels are offered to customers for no upfront cost is through leasing programs. While the customer may not have to pay anything upfront, this comes at another cost. The customer has to pay a fee for them every month for a set amount of time. In many cases this period of time can be anywhere from 10 to 15 years. Those who take this deal don't own their solar panels and basically rent them at a much higher cost. It is cheaper to have a solar power system installed by a reputable and legitimate company. These deals also don't have the long standing warranties that are offered by real solar professionals.
Offers of government subsidized solar
Another way that free solar panels are offered is through government subsidized solar programs. In these cases, people are offered solar panels while being told that they qualify for government subsidized solar panels. The fact is that these types of programs are rare. Such programs are only available to low-income households.
Power Purchase Agreements (PPA's)
PPA's are a legitimate way to finance a solar powered system. But like the other examples we've listed, they don't provide "free" solar panels. A PPA will often involve having solar panels installed at no upfront cost. However, the customer is billed monthly for the power generated instead of paying for the panels every month. This is usually done at a price that is lower than the local price for energy tariffs.
It's important to be aware of what is being written into the agreements with "free" solar. While there are a lot of things that can go into a PPA for solar, free solar panels are not one of them.
Scammers looking for personal information
The offer of "free" solar panels can also be a scam that comes in several different forms. Some scammers contact potential victims by pretending to be someone claiming to be a representative of a solar power provider. Scammers usually do this through text, email, or by phone. They tend to offer solar panels with no upfront cost or tell people that they qualify for an amazing deal. The catch though is that they say they have to act quickly to get it. They will ask for personal information such as bank or credit card information.
The Department of Energy urges people to "be wary of attempts to collect personal data in exchange for a price quote or to verify eligibility for services, as well as installers who are neither licensed nor certified by a reputable organization like the North American Board of Certified Energy Practitioners" (Energy.gov, 2023). In other instances, they will claim that you need to pay a fee that will be paid back at some point. Some scammers even go door-to-door and act like legitimate sales representatives in order to gather sensitive information.
Ways to Detect a Solar Scam
While there are solar panel scammers looking to take advantage of people looking to make the switch to solar power systems, there are ways to tell if they are untrustworthy.
Are they claiming that they need your bank information to check if you qualify?
Are they asking for credit card information?
Do they claim that they need you to pay an upfront cost that will be reimbursed once you sign up?
Is the person claiming to be a sales representative strongly pressuring you to do something?
Are they affiliated with an actual solar power provider?
If the answer to any of these questions was yes, then the person you are dealing with is likely to be a scammer. If you encounter something like this, the best thing that you can do is look up the company and learn about their goals, reputation, and business policies.
Getting as much information from them as possible and then reflecting on what you have been told is another strategy. Does this seem legitimate? Are they being honest with what is being offered? What would other solar power providers offer? Do you know as much as you need to about the programs or incentives you've been offered?
Legitimate Ways to Reduce the Cost of Installing Solar
While no upfront cost for a solar power system sounds appealing, it very rarely results in "free" solar panels. However, there are other ways that you can reduce the cost of installing a solar powered system. There are also benefits that can help you get the most out of such systems so you can reduce costs.
Tax incentives. Through government tax incentives, you may be able to claim credit of up to 30% of the solar powered system installation on your taxes. Always reach out to your licensed tax professionals for more information.
Net metering. If you take part in net metering, you can earn credits for sending the extra electricity generated by your solar power system back to the grid for credits. Customers may be able to use these credits to reduce their electric bill. 
Lower electric bills. Run your home with your solar panels while storing excess electricity they make in backup batteries. This way, you can use solar panels during the day and batteries at night. This reduces the amount of electricity you use from your electricity provider, and therefore, your bill. 
Go With the Real Solar Experts in the Business
When it comes to solar companies with the best reputation, IES Texas Solar shines brighter than the rest. For 50 years, IES Texas Solar has been helping Texans with energy solutions. While other solar companies may try to pressure customers into signing up, IES Texas Solar treats you with the care, courtesy, and respect that you deserve. Our teams design custom-tailored solar power systems that give you long-term energy stability. We accomplish this by using a design process that caters to your every need. If you have questions about designs, products, or want to compare prices for solar power systems with a company that prides itself on its honesty, then reach out to the real experts at IES Texas Solar.  
DISCLAIMER: IES Texas Solar, as well as its employees and contractors, are not financial, tax, and/or legal advisors, nor do they operate in any capacity as financial, tax, and/or legal advisors. Please consult licensed professionals for financial, tax, and legal advice.
Start the conversation today about what your options are for design and savings.
We have made it our mission to be a source of truth in renewable energy. Our team believes that accurate solar and backup power education is the foundation for making the best decision when choosing a system that fits your needs. If you are considering installing a backup generator or switching to solar for your home or business, reach out to us by going to our website, iestxsolar.com, or by giving us a call at (855) 447-6527.
If you are considering installing a backup generator or switching to solar for your home or business, reach out to us by going to our website, iestxsolar.com, or by giving us a call at (855) 447-6527.
Sources:
Why Solar is a Smart Investment During a Recession (solarreviews.com)
https://www.solarpowerworldonline.com/2020/06/enphase-energized-ac-modules-receive-rapid-shutdown-certification/
https://enphase.com/en-us/support/rapid-shutdown