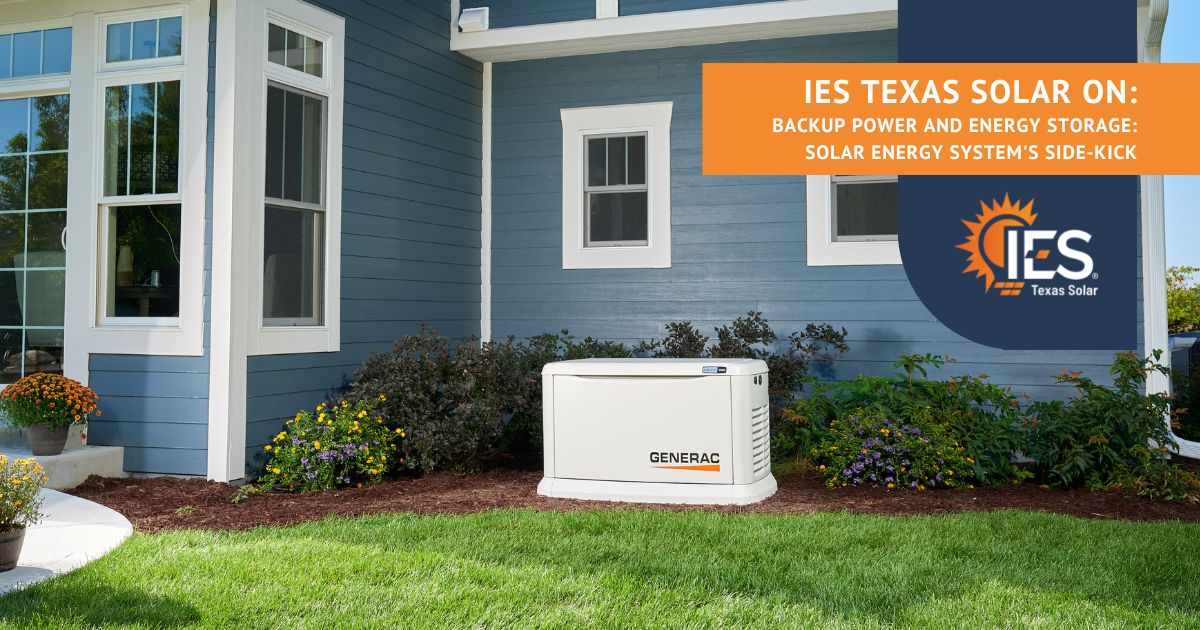 Time to read: 6 minutes
October 18, 2022
Being able to rely on your power when you need it the most is one of the most common reasons that Texans switch to a Solar Energy System. Many cite Winter Storm Uri as the reason they make the switch while other Texans reason that high electric bills, hurricanes, and other extreme weather events as the reason they installed a Solar Energy System with a generator and/or batteries. Whatever the weather or situation, more and more Texans are installing Solar Powered Systems. But what do these systems offer in terms of energy storage? When the weather gets bad and the lights go out, are batteries and generators going to keep you out of the dark while keeping everything you need in your home running?
The answer is yes. Let us show you how.   
The journey of exploring Solar Energy Systems, let alone the other elements that support its ability to keep the power on during an emergency event, can be overwhelming. In this article, we'll be taking a look at the different types of energy storage employed by Solar Powered Systems, what each type does, and the pros and cons (if any) of each.
Backup Generators
There's much more to generators than picking up one from the local hardware or feedstore, and Generac® definitely does it right. For most power outages, the first backup power solution that comes to mind for most people is a generator, and for good reason. Generators are a tried and true technology that's been around for a very long time, and it definitely gets results. IES Texas Solar installs Generac® generators, which have been around since 1959 when Generac started creating solutions in the backup power industry.
Installing a generator can give you a massive amount of resilience in the face of extreme weather events and other situations that lead to power outages. When your power goes out, your generator activates automatically. Some customers install generators as a general precaution when considering the condition of the power grid in Texas. Equipment used to heat your home like heat pumps use electricity to function and may become damaged during an outage. Some Texans that own pools have installed backup generators so that their pool systems are able to keep water circulating during a hard freeze in order to avoid the damage that low temperatures can cause to such amenities. Financially, installing a generator can be a protective measure that keeps you from worrying about paying for repairs to your pool and other plumbing in your home when temperatures take a nosedive.
Generators do not require a Solar Powered System to function, and IES Texas Solar installs them all year-round. Even if you aren't initially considering solar panels, a Generac® generator is a stable, reliable investment that can make the difference when it counts.
Pros:
Can keep your home powered for a long span of time, including heating systems like furnaces and heat pumps.
Monitor your generator's status from your IES app.
Cons:
Must be refueled or connected to a gas line.
Even when you consider that you need to connect to a gas line or refuel a generator if it is connected to your propane tank on property, they can keep your power on for a very long period of time. Generators are reliable for a reason, and one of those reasons is that they last long and work even in the worst conditions.
Backup batteries
Backup batteries are one of the best investments you can make for your home when you install a Solar Powered System. Backup batteries allow you to store power with your solar panels for later use. This is essential for all types of installations, but it is especially important for off-grid Solar Powered Systems. Backup batteries come with a wide range of benefits for your home, and you are still able to run equipment like heat pumps to heat your home during emergencies. When you make your purchase on backup batteries, it is the only time that you will have to invest money into that part of your system (unless you decide to add more batteries of course).
While you have to refuel a generator, backup batteries only need energy from your solar panels. Batteries are essential if you plan to have the biggest possible return on your Solar Powered System in addition to getting the biggest reduction on your electric bill. When you pair your solar panels with batteries, you can even eliminate your electric bill all together.
Pros:
Don't need to be refueled. Purchasing them is the only time you will ever put money into the batteries you buy.
You can monitor your system and batteries through your IES app
You can power your home with solar panels during the day while also storing energy in your batteries, and then switch to batteries at night.
Cons:
More expensive initially than generators.
They may be a larger investment than generators at first, but the initial purchase of the backup batteries is the only one you should ever have to make. Backup batteries never have to be refueled, last for long periods of time, and allow you to even take advantage of solar buyback.
Backup power during storms
Over the last couple of years, Texans have had to endure power outages caused by Winter Storm Uri and soaring, record breaking temperatures during the hotter seasons. During these difficult events, having power to run the devices and things you need is a must.
When the power goes out, appliances in your home won't function and may even become damaged. Texans that have to refrigerate medication or keep medical equipment running need electricity during power outages. Backup batteries and generators keep the power on so that you can keep the most vital devices and appliances running when you need them the most.
Without power, internet access is also an issue. Being able to use the internet during an extreme weather event is critical for gaining up-to-date information on the situation, checking for boil water notices, and to communicate with loved ones. Recently, Hurricane Ian ravaged a large portion of Florida, causing over 2 million people to lose power. However, Babcock Ranch, a community of 2000 homes that was hit by the hurricane, had installed a large array of solar panels and never lost power. Babcock Ranch had working water and internet access thanks to the power from their solar array. When you install a backup generator and/or batteries, you get the same benefit. While Texas towns are not yet at that level, you can still protect your family with your own insulated mini-grid when the power goes out.
As we've written before, having backup power during a freeze is very important. Some owners of pools install generators in order to keep water flowing, which keeps it from freezing and destroying pipes in their pool system. The power from generators can also keep the water in your home flowing, so you don't have to worry about pipes bursting. This is especially true if you have a well that runs on an electric pump for your home. Did we also mention that your generator will activate instantly once the power outage occurs?
In regards to backup batteries, you can power your home during the day with your panels while storing power to use at night. If storms or weather that blocks the sun occur, your panels will still be generating power, but you can still rely on your batteries to run everything in your home. You can even engage "storm watch" which is a program your system has that will switch to backup power when necessary during a weather event in order to seamlessly power your home without you having to lift a finger.
IES Texas Solar has the backup power solutions you need
When it comes to getting prepared for power outages, gaining energy independence, or simply trying to reduce your electric bill, IES Texas Solar has the backup power solutions you need to keep the power on and your family safe.
If you are considering switching to solar for your home or business, reach out to us by going to our website, iestxsolar.com, or by giving us a call at (855) 447-6527.